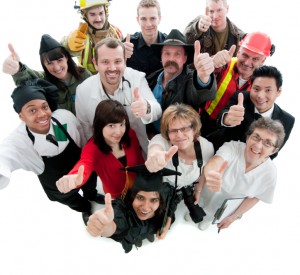 Over the years, because of the city's various county and state agencies, regional medical facilities, shopping, entertainment, and recreation opportunities, all within easy access for the citizens of Harford County Bel Air, Maryland has earned the nickname "The Heart of Harford." And with a population of 10, 120, according to the 2010 census, Bel Air is no small town. The city is bustling with economic activity. And the future is looking bright.
Bel Air's economic development program is designed to sustain and enhance business recruitment and retention, and identify funding sources for small businesses. I layman's terms, the economic development program is designed to facilitate growth and attract new businesses to the city.
So how does your business stand out in the crowd?
Uniform Rental Can Help
Aside from making your employees more easily recognizable, what benefits do uniforms offer your business?
For starters, uniforms help present your employees as professionals. In fact, 60% of potential customers agree that uniformed employees come across as better-trained and more knowledgeable. And as we have said before, first impressions matter. It only takes a prospective customer or client seven to 17 seconds to form their first impression of your business. Are your employees making a good impression on your would-be customers? Uniform rental can help.
For a flat weekly fee, Lord Baltimore will pick up, clean, and deliver your uniforms on a weekly basis. We will also make any necessary repairs – missing buttons, broken zippers, holes in pockets, and other repairs – to ensure your employees look their best. And when a uniform has reached the end of its useful life, we will replace it for you.
Click Here to learn more about the many benefits of uniforms.
Uniform Rental in Bel Air
Lord Baltimore Uniform has been providing reliable, cost effective uniform rental service to the Bel Air area for the past 40 years. As an independently owned, local business, we understand your needs and are confident in our ability to provide you with service above and beyond uniform rental industry standards. Lord Baltimore offers proven, dependable solutions that will help your business succeed.
To find out if Uniform Rental is the right choice for your Bel Air business, please contact Joe Bateman at Lord Baltimore Uniform at 800-292-1224 or visit LordBaltimoreUniform.com. We also handle towel rental for gyms and salons; apron, towels, uniforms and mats for restaurants; and uniform, shop towel, fender cover and mat rental for manufacturing and automotive industries.
You can also follow Lord Baltimore on Facebook, Twitter, LinkedIn, and Google+.