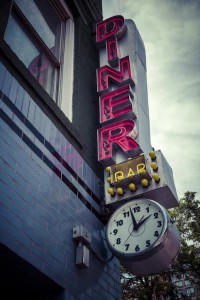 Big fancy five star restaurants in Baltimore are not the only ones who need to make a good first impression. Diners, drive-ins, pizza shops, burger joints, and other service industry restaurants also need to wow their customers to ensure they are not only satisfied with their service, but keep coming back for more, which can help increase profitability. In fact, researchers at Harvard found that by increasing repeat visits by just 5%, profits can increase anywhere from 25 to 125%. So the question becomes how do you turn first-time customers into repeat customers?
Believe it or not, it is often the experience, not the food that leaves customers wanting more.
How Uniforms Make a Difference
Cleanliness, as they say, is next to godliness.
According to a retail consumer study performed by M/A/R/C Research and National In-Store, 14% of consumers said they would stop visiting a store that was not as clean as they would like. While this figure is directed at a wide range of retail establishments, the food industry should take notice. When a customer evaluates their overall experience, and a restaurant's overall quality, cleanliness (or the perception of cleanliness) plays a significant role. Factors that come into play include aesthetic appeal, actual cleanliness, and, of course, server and staff appearance. This is one reason many diners and restaurants choose to outfit their wait and kitchen staff in uniforms.
As the old saying goes, "you don't get a second chance to make a first impression." Your staff is the face of your restaurant. They need to look the part. According to several psychology studies, 55% of a stranger's first impression is determined by physical appearance: clothes.
Uniforms Help Build Your Brand
As with any company, a strong brand identity strengthens credibility, promotes brand loyalty, and ensures repeat business. And strong branding starts with visibility, which is one area uniforms can help improve. Click Here to learn more about how uniform rental can impact branding.
Uniforms Create a Professional Environment
Your customers dine out for two reasons: convenience and the atmosphere. Uniforms, along with restaurant décor, help establish a professional environment for your customers to enjoy.
Uniforms Identify Your Employees
Uniforms help customers easily identify your employees at a distance. After all, you don't want Joe Schmoe asking another diner for his refill, right? Uniforms help let your customers know who they can count.
And So Much More!
Uniform Rental from Lord Baltimore
For over forty years, Lord Baltimore has provided reliable, cost effective uniform rental services throughout Maryland, Washington DC, Northern Virginia, Southern Pennsylvania, and Delaware. We are an independently owned company that is confident in our ability to provide you with service above and beyond uniform rental industry standards.
Lord Baltimore offers several solutions geared towards the restaurant industry, including service uniforms, butcher's frocks, aprons, kitchen shirts and pants; and chef's coats, pants, and hats. We also supply dish towels, microfiber towels, mops, and floor mats.
To find out if Uniform Rental is right for your diner, drive-in, or other service industry restaurant, please contact Joe Bateman at 800-292-1224 or by visiting LordBaltimoreUniform.com. We also handle towel rental for gyms and salons; apron, towels, uniforms and mats for restaurants; and uniform, shop towel, fender cover and mat rental for manufacturing and automotive industries.
You can also follow Lord Baltimore on Facebook, Twitter, LinkedIn, and Google+.